The Doug Flutie Tribute Page.

Click here to see where Doug Flutie also appears on my web page. You will be surprised.
Updates on Doug Flutie's season
Doug Flutie started against the Seattle Seahawks in the first preseason game. Oddly enough, he and Jon Kitna of Seattle had identical stats. 6-8 for 63 yards. The Bills won the game 23-10. Glen Foley lost the game for the Seahawks by tossing an INT that was retunred for a TD

Doug Flutie's Bills are missing some players but are 5-3. One of those losses was to the Seattle
Doug Flutie has an autistic child. To help raise money for families with autistic children, Doug Flutie and the Buffalo Bills started the Doug Flutie Junior Foundation. The foundation has put forth some great products for people to buy. A portion of the proceeds go to the Doug Flutie Junior Foundation. In the words of Doug Flutie, "People buy Flutie Flakes to help some really great children." Dialling 10-10-220 is no longer good for the Doug Flutie Jr. Foundation. Now 10-10-220 is looking to help the farmers of America. I hope they farm the ingredients for Flutie Flakes.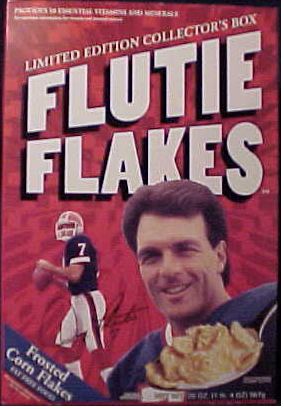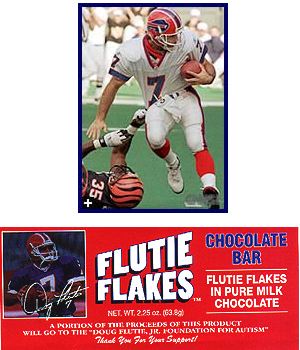 | | |
| --- | --- |
| Flutie Flakes cereal was the first of the Flutie Flakes products. I was fortunate enough to find some boxes at Rojack's on Armistice Blvd in Pawtucket. I called every Stop&Shop and they all told me Flutie Flakes Cereal cells like hot cakes. People can not buy them quick enough. The taste is so-so, but to have a picture of Doug Flutie in my kitchen makes it worth it. After eating Flutie Flakes, I bowled my best game in bowling. Go Flutie. | Unfortunately, Flutie Flakes the candy bar is not as easy to find. Flutie Flakes candy bars are Flutie Flakes surrounded by chocolate. The chocolate bar is currently only sold in the Buffalo New York area. The candy bar is newer than the cereal and the cereal started out in Buffalo too. If anyone finds Flutie Flakes the candy bar in stores in the area please tell me. Like the cereal, I think the candy bar will be out for a limited time. |
| | |
| --- | --- |
| | Doug Flutie has caught on. Now there are bears of Doug Flutie being made. That means, he is considered one of the more marketable players in the NFL. That he is. If he weren't marketable, would he be on my page. NO!! |
Nowadays frosting appears on many cereals. Frosted Flakes has been the staple in frosted cereals followed by Frosted Shredded Wheats. Cheerios and Doug Flutie have recently added to the frosted cereal market. Its crazy, kids want frosting. I want you guys, the nice people who take time out of their days to see my page, to give me some input on this subject. Select your favorite frosted cereal in the quizlet below.